"A home away from home"
A Micro-Loft is not just furnished-living, but the reflection of a very special attitude to life.
The renovation created by experienced interior architects and designers took create care in the project. The inspiration behind the RENOVATION CONCEPT is "mono localism" which appears in studios, in former factories and in hotels. People usually do not live or work there forever, they live there transiently, but consciously. They are focused, spend little time in their homes, do not need much in the way of material possessions, but intensive regeneration.
Micro lofts are best suited for those visiting Stuttgart for a fixed period of time such as students, professors, visiting artists, and professionals associated with local industries.
The Micro-lofts are located in STUTTGART-DEGERLOCH, a very esteemed district in the south of Stuttgart, known for its status as a climatic health resort. In the immediate vicinity is a large forest ("green lung") and the Ramsbach or Weidachtal with versatile sports facilities, over 50 clubs with ball and tennis courts, an ice skating rink, a sauna and a climbing wall.
PEDESTRIANS
The neighborhood center is just a few minute walk away from Micro Lofts. The area of Degerloch provides everything for daily needs: various supermarkets (including three organic markets), several bakeries, butchers, dry cleaner, post office, drugstores, and major bank branches. A farmer's market offers regional produce every Wednesday and Saturday. Several cafes, restaurants and a traditional tavern with regional Swabian cuisine are located within walking distance. Degerloch is also home to two of the most acclaimed restaurants in Stuttgart that are nationally known and awarded.
SUBWAY / MAIN STAITION/ AIRPORT
Located within a 5 minute walk is one of Stuttgart's major bus and subway hubs, the Degerloch station. From here subways run directly to the Stuttgart city center and the main station (10 minutes) as well as to the convention center and the airport (7 minutes). The cogwheel railway ("Zacke") to Marienplatz is only 3 minutes away.
BUS / AUTO
The Central Bus Station (ZOB) is located directly at the Degerloch stop. It is strategically located next to the motorway connection (A8) as well as the four-lane federal highways to Reutlingen and Tübingen. In close proximity there is a electric vehicle charging station and a car-sharing car park.
BICYCLE
Just a short pedal from Micro Lofts is Daimler-Benz's headquarters, the Stage Theater, which is one of the largest musical theaters in Germany, the International School and the campus of the University of Hohenheim. Recently, the first legal downhill track for mountain bikers was inaugurated between Degerloch and the city center. The trail overcomes a vertical drop of 120 meters with 27 obstacles and catapults you into the center in less than 3 minutes.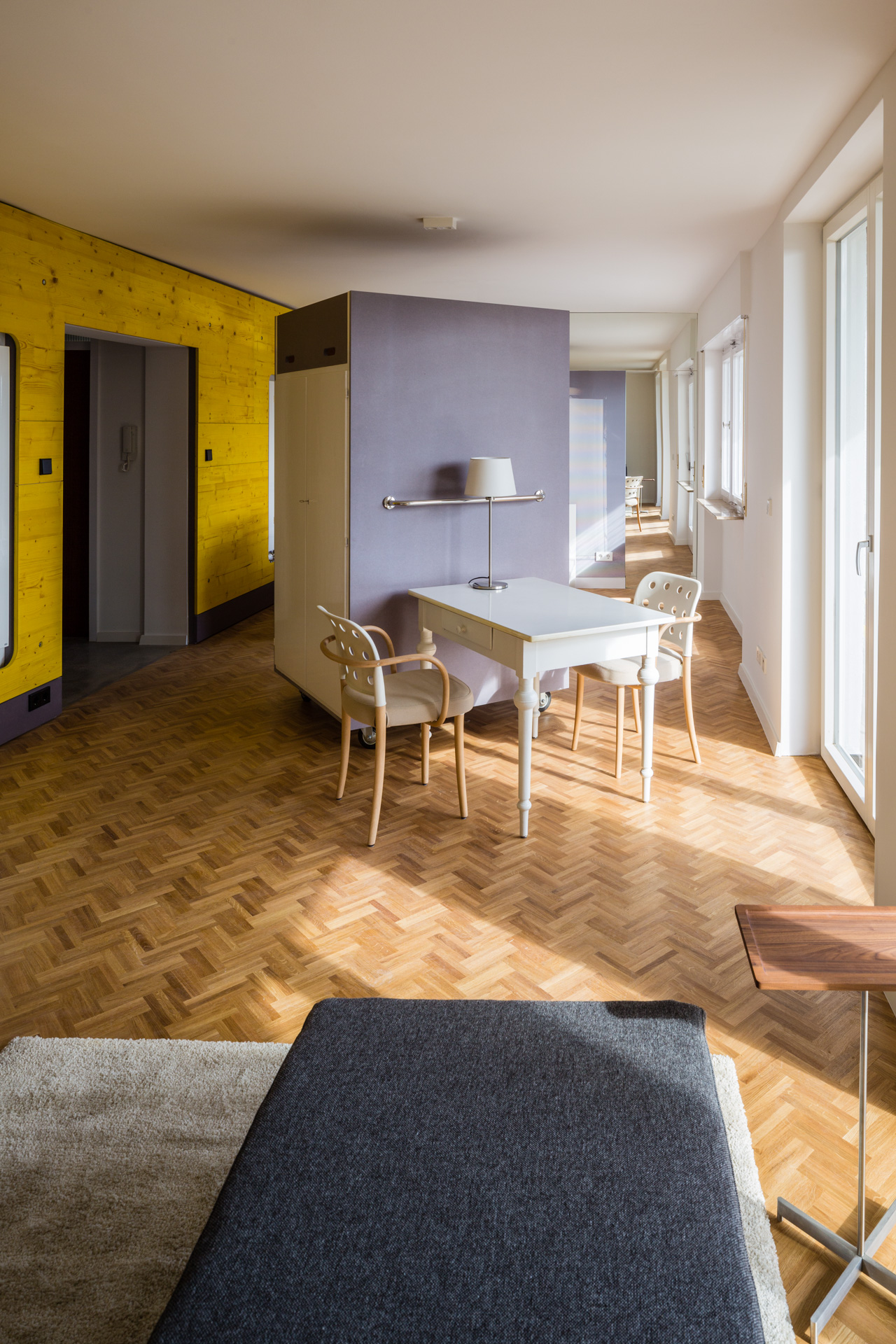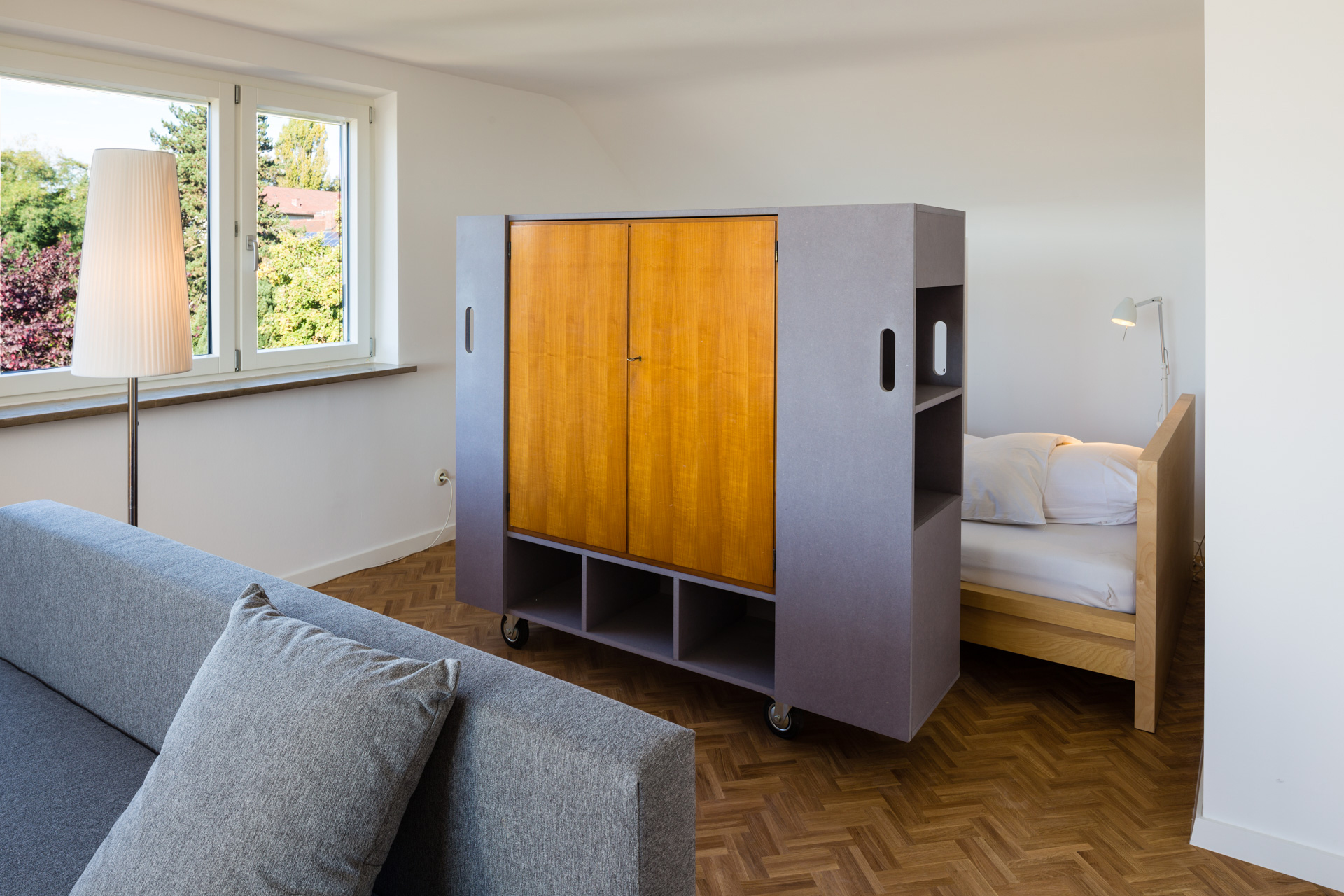 In 2014 micro-lofts was created from the conversion of a FAMILY APARTMENT BUILDING into a collection of boutique private homes that are available for a medium-term stay of 6 months to 2 years.
Each unit is fully furnished and equipped for everyday use, including kitchens with refrigerator, stove, oven and extractor fan. Cooking equipment and eating utensils are provided in addition to cotton towels, bedding and linens. All of the units feature wireless internet access and a 28″ Flat screen LED TV with SAT connection.
Living areas are laid with hardwood oiled oak parquet floors, the adjoining rooms are laid in refined screed and high-quality tiles.
A central laundry room is equipped with two washing machines and a tumble dryer. Iron, ironing board and vacuum cleaner are available in a separate cleaning room for the residents to use.
Bicycle parking spaces are located in the front of the house. These features and amenities are included in the rent.
INTERESTED?
Then contact us! We tell you which Micro-Lofts are available.
RENT
Monthly rents range between €1,250 and €1,490. Rent includes use of furnishings and amenities,
heat, hot water, internet and satellite connection, use of the laundry room, iron, and vacuum. Apartment floors are cleaned every two weeks at no charge.
In addition to rent, tenants are responsible for GEZ (a state required public broadcasting fee of €17,50 per month), electricity (contracted directly with the utility company) and final cleaning on departure.
A security deposit is required equal to 2 months rent. The micro-lofts are designed for a rental period of 3- 24 months.
PARKING SPACES
A bicycle parking space is available, car parking spaces and garages (partly with three-phase charging stations for fast charging of electric vehicles) can be rented at an addition cost and are subject to availability.